FAQ for W Vebier luxury hotel Switzerland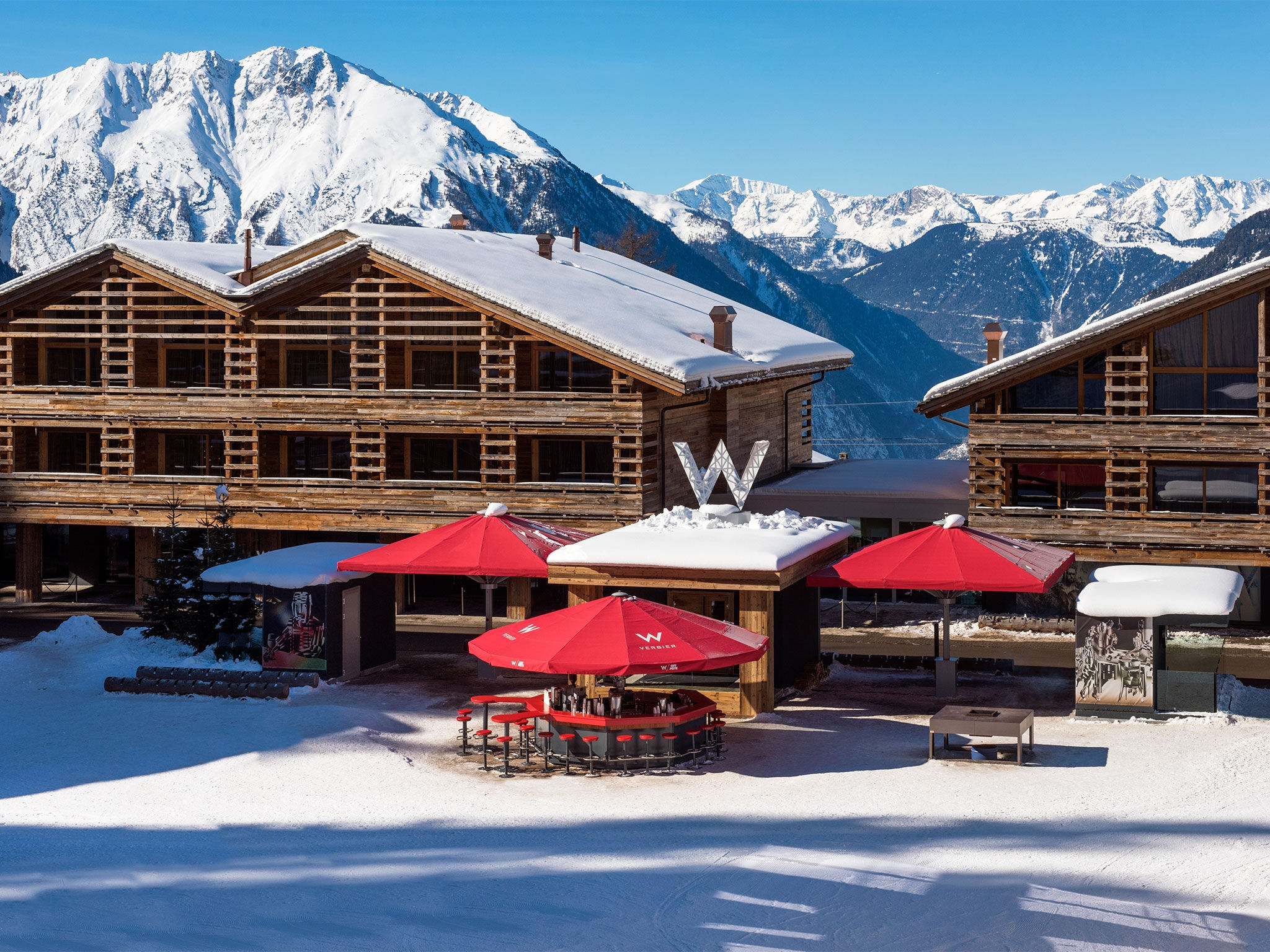 Stay tuned. On this page you can find all the answer to your questions. Need a heads-up?
HOTEL NAME: W Verbier Hotel & Residences
NUMBER OF ROOMS: 123
MEETING SPACE: 295 m²
OTHER FACILITIES: 6 Beverage & Food Outlets // AWAY® Spa on 800 m² // FIT Gym // Indoor/Outdoor heated WET® Pool // Direct Ski-in/out // Access Shopping // 130 Dedicated Parking Spots
SERVICE: 24/7 Whatever/Whenever® // Valet Parking
Call us at +41 27 472 88 88
E-mail us at ww.verbier@whotels.com
1. Private transfer
We would be pleased to arrange you a private transfer to drive you directly to W Verbier, and start your stay with us stress-free.
Our Whatever/Whenever team can arrange any transfer to and from any destination within Europe. Please contact us directly for a quotation.
2. Are there any resort fees and/or local taxes that apply?
Yes, local taxes amount to CHF 4.00 per adult per night and CHF 2.00 per child between 6 and 16 years old per night (kids up to 5 years old do not pay the city tax). They are not included in our rates.
3. When is the hotel closed?
Never. We're open around the year, summer and winter.
4. Do you have room service?
Yes, our room service is available around the clock:
5. Breakfast
Is breakfast included in the room rate?
Most room rates have breakfast buffet included. There are a few exceptions, such as employee rates and award redemptions. Please check your rate details upon booking.
When and where is breakfast served?
The breakfast buffet is open for you every day from 7am to 11am at W Kitchen.
What does breakfast buffet cost?
Adults CHF 50 // Children 5 or older CHF 35 // Children below 5 free (Most room rates for residential guests have breakfast buffet included)
6. Is parking available on the property?
Yes, we have 65 dedicated parking spots. Costs amount to CHF 49 per car per night during peak-season (1/12 - 30/4) and CHF 29 for rest of the year including valet parking. A public parking is also available down town, just opposite the sports center.
7. What are your lowest available rates per season?
Summer saison¹: Single rooms CHF 275 // Double rooms CHF 315 // Suites CHF 925

Winter saison²: Single rooms CHF 350 // Double rooms CHF 390 // Suites CHF 1350
1. Summer season: May 1st to November 30th
2. Winter season: December 1st to April 30th
8. What are the charges for internet access?
Public areas: Free // Wi-Fi // Limits in speed // Upgrade CHF 15/day¹
Guest rooms: Free // Wi-Fi / cable // Limits in speed // Upgrade CHF 15/day¹
1. Upgrade unlocks high speed in both public areas and guest rooms.
9. Do you offer valet parking service?
Valet parking is available to guests coming to all of our venues (restaurants, bars as well as AWAY® Spa).
10. Children & Babies
Are extra beds available?
In the parent's suite, costs amount to CHF 125.- per child per night including breakfast. The full rate is charged for a separate room.
Are baby cots available?
Yes, baby cots are available and free of charge for babies up to 2 years old included.
Do you offer a children's menu?
Yes, at W Kitchen and in the Living Room.
Up to what age are children considered as such?
Up to 12 years old included.
Are connecting rooms available?
Yes, in the categories Fabulous Room, Cozy Suite and Fabulous Suite. There are also a number of Family Rooms available.
11. Are pets welcome?
Yes, we welcome small pets of all kinds up to 18 kg. They are allowed in the owner's room and in public areas. Please note that pets are not allowed in our fitness, spa and pool areas. The surcharge amounts to CHF 50.- per pet per night, including amenities.
12. Is smoking allowed on the premises?
All our guest rooms are non-smoking. In adherence to Swiss Law, smoking is also prohibited in all public areas.
13. Is there a business center on property?
Yes, the Wired Business Center is open around the clock. Usage of laptops and printers is free of charge.
14. What are check-in and check-out times?
It is possible to check-in from 4:00 PM. Check-out must be completed by 11:00 AM. The Welcome Desk (reception) is open around the clock.
Is late check-out possible?
Yes, subject to availability and upon request at the Welcome Desk (reception).
15. Is it possible to store luggage at the hotel?
Yes, luggage storage before check-in and after check-out is possible on the same day. The service is free of charge.
16. Payment
What currencies are accepted?
Being located in Switzerland, the hotel's currency is the Swiss Franc (CHF). We also accept Euros (EUR) at a daily exchange rate. Please note that we do not accept traveler cheques.
What credit and debit cards are accepted?
You can use Visa, Mastercard, American Express and Diners Club as a means of payment. Please note that we do not currently accept debit cards.